| | |
| --- | --- |
| STRENGTH: | |
| ACIDITY: | |
| INTENSITY: | |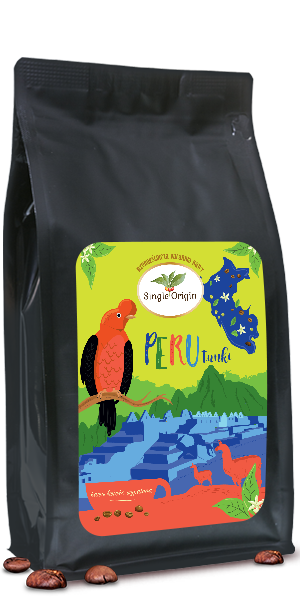 Peru Tunki
4.86 € – 34.86 € excl. VAT
Peru Tunki is an organic cultivated Arabica, which achieved the title of The Best Peru Cofffee 6 times, scoring 87 points (87/100) in the SCAA rating.
Tunki is the name of birds, also known as cocks-of-the-rock, which live in Peruvian Andes. They were chosen as a symbol of this excellent coffee, as it's cultivated in their natural habitat: far from the civilization. This Arabica comes from small (maximum of 2 ha) plantations, where it's traditionally grown, without the use of machines and pesticides.
In addition to great environmental conditions (plantation height, wet climate, clear mountain water), the result is Arabica titled as "best of Peru".  Tunki has creamy-chocolate notes and nutty aroma. It's acidity jest very low (delicately citrus, barely sensible). We recommend it heavily!