In roasteries, raw, green coffee beans undergo thermal treatment (170-200°C at our roastery, depending on coffee beans variation, at industrial roasteries it's sometimes >500°C), thanks to that we can extract their flavor and aroma. Raw coffee beans have only a several dozen aroma-flavor compounds and their roasted counterparts above 700!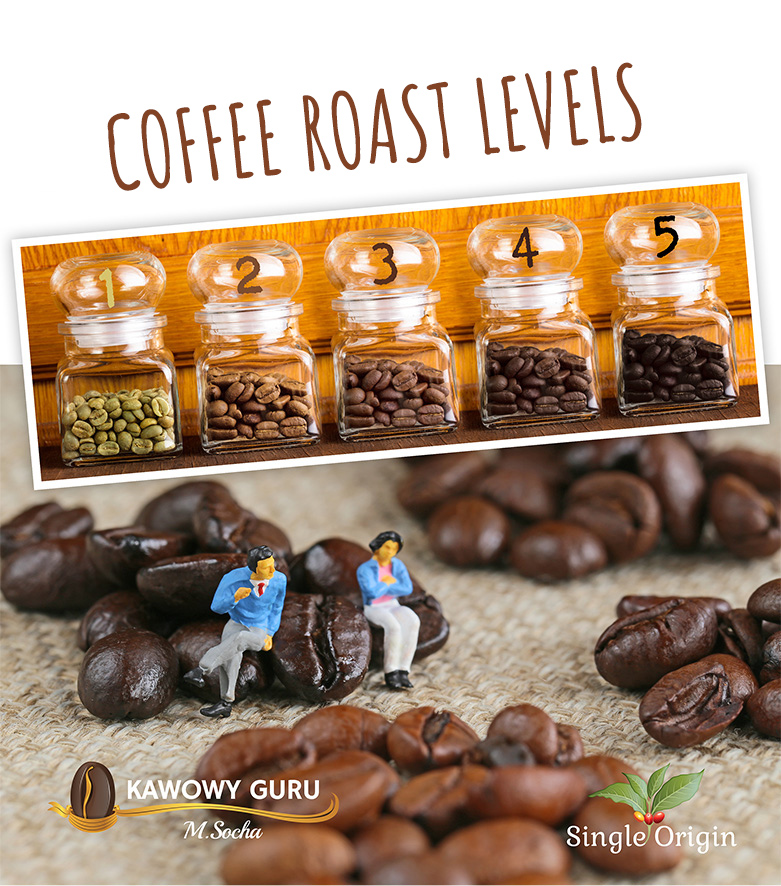 Every variation of arabica, depending on many factors, has a roasting level, that enables to unleash the specific coffee beans potential.
General rule is that, the more delicate roasting level, the more noticeable natural flavor notes of specific coffee are.
In Single Origin Roastery we use following roasting levels:
Green coffee (unroasted) – unroasted coffee beans have green-yellow color and slightly "earthy" smell. Green coffee beans are non-edible!
Light roasting (New England) – coffee beans are sligthly browned. Coffee fully extracts its natural flavor notes, but can be a little acidic.
Medium roasting (American) – coffee beans are nicely browned. It's a good roasting level for most coffees: it makes a good balance between natural flavor notes and these created during roasting process.
Medium dark roasting (Vienna) – coffee beans are brown. Acidity is minimal, possible delicate, pleasant bitterness. Most of medium dark roasted coffees have "classic" coffee taste, liked by many of our Customers.
Dark roasting (French/Italian) – coffee beans are very browned, natural oily drops appear on their surface. Most of dark roasted coffees lose their natural flavor notes and reveal dark roasting notes (nuts, chocolate). Noticeable bitterness.
Stronger roasting levels minimalize acidity, but at the same time make different coffee beans more similar to each other. If coffee roasting levels are still a mystery to you, rely on our recommendation – every coffee we offer has listed a recommended roasting level for specific coffee beans.
Single Origin roastery allows every coffee lover to experiment with roasting levels – as part of our FREEKEND event you can try different roasting levels starting even at 100g of coffee (normally, if you want to change the recommended roasting level you have to order at least 1kg of specific coffee).