| | |
| --- | --- |
| STRENGTH: | |
| ACIDITY: | |
| INTENSITY: | |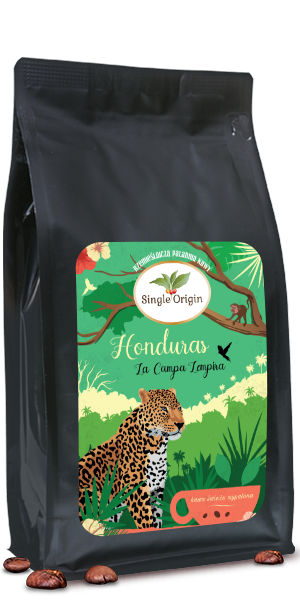 Honduras La Campa Lempira
3.93 € – 25.56 € excl. VAT
A new coffee in our offer, which we immediately liked! La Campa Lempira is a coffee from Honduras, it has a deep flavor and chocolate-cookie notes.
This coffee comes from La Campa region and the name Lempira comes from the name of Honduras's hero, who lived 5 centuries ago and fought Spanish conquistadors (Honduras's currency is  called lempira also).
Our coffee grows on a small farm located near Celaque national park at the foot of a mountain with the same name. It's a coffee harvested and worked on manually, without use of any machines. With it's taste and aroma, it reminds of other high quality Central America coffees: full bodied, classic nutty notes with sensible (by some people) cookies.
It's great for an espresso, milk coffees or a black coffee. We recommend it heavily!