| | |
| --- | --- |
| STRENGTH: | |
| ACIDITY: | |
| INTENSITY: | |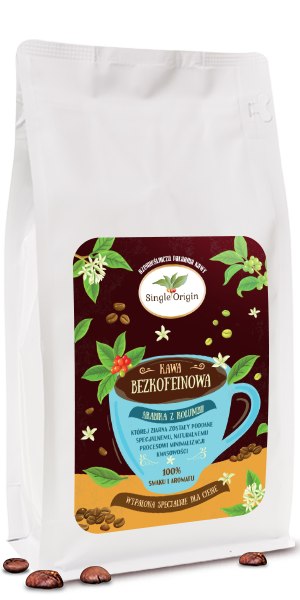 Decaffeinated Coffee (100% arabica)
4.16 € – 27.88 € excl. VAT
High quality Colombia Arabica, decaffeinated by using 100% natural means. Requested by our Customers, now permanently in our offer, after a really long absence.
We bring our coffee beans from reuputable region in Medellin province in Colombia. This coffee has been decaffeinated by using a natural Swiss Water Process, which means that green coffee beans are being put in specific temperature water. Thanks to that they lose more than 99% of their caffeine. It's a natural method (there are some cheaper, chemical methods), which is considered as the healthiest one.
Our coffee tastes like a good Colombia Arabica should taste – it has chocolate-nutty flavor notes, it's barely acidic and is medium to full body. Because it doesn't have caffeine, it will surely make those of you who shake just after one black coffee happier.
We roast this coffee only in strong / Vienna style.