| | |
| --- | --- |
| STRENGTH: | |
| ACIDITY: | |
| INTENSITY: | |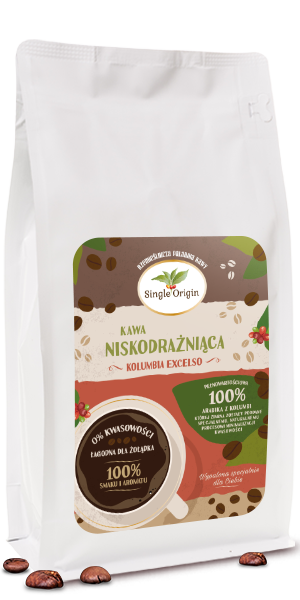 Low Acid Coffee (100% Arabica)
4.16 € – 27.88 € excl. VAT
Low Acid Coffee has no acidity. Coffee beans undergo a special process, during which, they are treated with under pressured steam (100% natural process, without using any chemicals). It's not a complicated process, but it reduces acidity very well. Our Low Acidity Coffee is a 100% Colombia Arabica (Colombia Excelso).
Why does coffee cause stomach upset? It's because coffee is acidic. In many cases, acidity in coffees is welcomed (like in many African Arabic beans), but some people might feel discomfort or suffer from stomach upset.
Coffee beans acidity reducing process is a first (but the most important one) step. Another step is the right roasting level, as  roasting reduces coffee acidity as well. Our Low Acidity Coffee is medium dark roasted – of course only after you order it!
This coffee cannot be roasted in any different way – only in strong level.