| | |
| --- | --- |
| STRENGTH: | |
| ACIDITY: | |
| INTENSITY: | |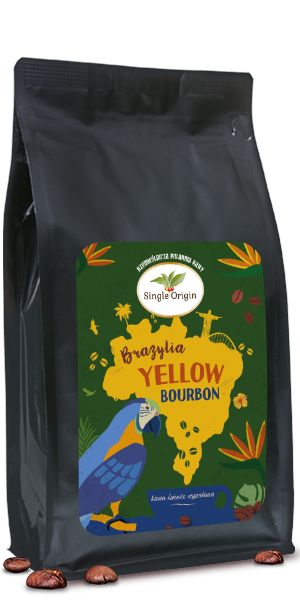 Brazil Yellow Bourbon
3.93 € – 25.56 € excl. VAT
Yellow Bourbon is an excellent Arabica from Brazil, with classic chocolate-nut notes and almost negligible acidity.
This coffee comes from the Rainha plantation, which is covering about 280 ha. This is one of the most reputable coffee farms in Brazil, which has been winning quality awards for its beans every year ("Cup of Excellence" – the Oscar in the coffee industry). The Rainha plantation is also famous for its exceptionally high employee standards, respect for the natural environment, or the beautiful chapel located within it, designed by the world-famous Brazilian architect Oscar Niemayer. In other words: it is a reliable business that offers a very high quality product.
Yellow Bourbon has features typical for high-quality Brazilian Arabicas: well-noticeable nutty-chocolate notes, low acidity and full body (that is a slightly syrupy consistency). Espresso and coffees based on it, as well as a large black one, are great with these beans. We highly recommend them!
Learn more about the Brazilian coffee on Coffees.guru blog »