| | |
| --- | --- |
| STRENGTH: | |
| ACIDITY: | |
| INTENSITY: | |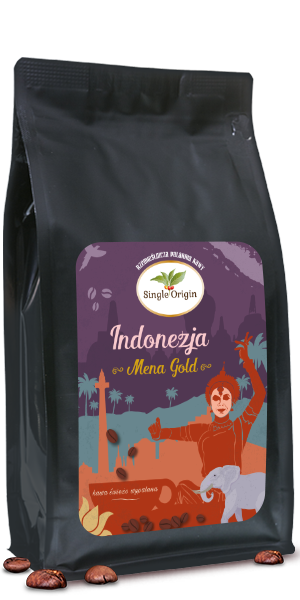 Indonesia Mena Gold
4.16 € – 27.88 € excl. VAT
Excellent, deep taste coffee coming from north Sumatra. Mena Gold is one of the best coffees coming from Indonesian coffee industry.
A new coffee in our offer – Indonesia Mena Gold – it's a great Arabica cultivated near Toba lake on Sumatra island. It's quite strong, with berry notes and sensible "forest aroma". That's thanks to Indonesian special processing method, called Giling Basah (which means: ,,wet grinding" or ,,wet hulled"). It's more time consuming than other methods, but it results in strong and deep flavored beans.
Mena Gold is being roasted in medium dark level and we recommend it to people who like deep flavored and strong black coffee. It's also great for milk coffees. We highly recommend it!