| | |
| --- | --- |
| STRENGTH: | |
| ACIDITY: | |
| INTENSITY: | |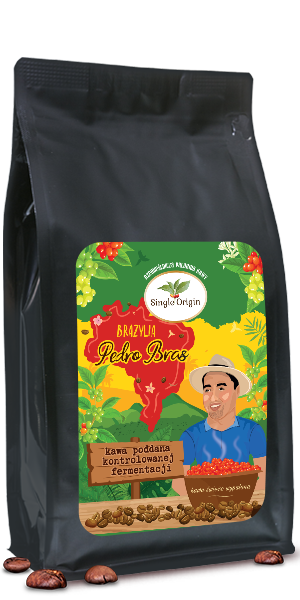 Brazil Pedro Bras
4.86 € – 34.86 € excl. VAT
Amazing controlled fermentation Arabica from Brazil, coming from recognized farmer Pedro Bras. A coffee with very fruity notes, pleasantly sour mixed with a natural sweetness.
A coffee coming from Sitio Armadillo plantation owned by Pedro Bras. The plantation is located in Canastra region, Brazil and grows at 1285m AMSL. It's size is roughlt 4,5 ha and all harvesting is done by its owner. What's interesting, harvesting happens only during full moon night. Pedro Bras is believed to be one of the best small farmers in Brazil. His family grows coffee since 1970, but it was Pedro who turned his small family buisness into a globally appreciated plantation with a great knowledge thanks to scientific research (with Lavras's university assist) and real coffee passion.
Pedro Bras' plantation uses only natural methods of growing coffee. There isn't any usage of artificial fertilizer, the quality of water used to irrigate the crops is being regularly checked, harvesting is done manually and also manually sorted – only the best coffee fruits that pass high quality tests are kept. What makes Pedro Bras' coffee so innovative and exceptional  is a special treatment – controlled fermentation. After harvesting, the fruits are partially deprived of skin and pulp, their seeds (coffee beans) and the remaining pulp are being fermented in barrels with 60kg of them in each barrel with the use of special kind of yeasts in order to gain "wild" fruity notes. Controlled fermentation process with the usage of yeast is an innovation that is being studied in universities for about 3 years now. Pedro Bras works in touch with Lavras university, and result of their cooperation scored a very high rating of 87 points in the SCAA rating, which means it's an excellent coffee.
Pedro Bras' Brazil coffee smells like fruit. Its coffee beans smell like a fruit marmolade. Coffee has clearlly felt notes of dried fruit, flowers, caramelized sugar, coconut and milk chocolate. Even though, it's a coffee with sensible acidity, it's mixed with natural sweetness. It smells beautifully and tastes wonderful.
This coffee is made for overflow brewing methods. Both its natural flavor and our recommended medium roasting level, make this coffee great for AeroPress, Chemex, drip coffee maker.
You can find more information about coffee fermentation (including controlled fermentation) on Coffees Guru blog, which we encourage you read!